I still remember clearly how we lined up at the immigration of Shenzhen. Everybody was speaking Chinese and the signages are mostly in Chinese. You can imagine the struggle and confusion. But that's the exciting part of traveling, right? The toilets were not the "usual toilets". You need to do the squat position with these so called Chinese toilets. I needed to pee that time after I passed through the immigration.
First, how did I arrive in Shenzhen from Hong Kong? I took the 15-30 minute train ride. Please note that it is not visa free in Shenzhen because it is already part of the Republic of China, in Guangdong province so you need to secure Visa before entering the city. MOST IMPORTANT THING, please download maps and translation apps if you do not know Chinese language. English is barely spoken here
.
The sightseeing lasted for a half day and here are my recommendations:
1.) SHENZHEN CIVIC CENTER
This is the landmark of Shenzhen city. The red and yellow structure that looks like a big arch. I liked staying at the park within the area. It was cozy and beautiful. You can also find the amazing Shenzhen Library and Shenzhen Concert hall. You can come here at night for the light show. My most favorite part is just chilling at the park here. And It is totally free. 
2.) WINDOW OF THE WORLD
Like what I said you need to get a translator, I came here and I asked a Chinese guy to take photo of us. Apparently, we had a misunderstanding about the price of the photo printing. I thought I got scammed or something because I am a tourist. I just walked away because it turned out to be very expensive. It was fun coming here at this theme park. It will take you to popular world attraction sites. Though it was crowded as it's always filled with families and teenagers. The ambiance was lively.
2.) Kuang Yi Cultural Exhibition Centre 
This is a mineral shop and bamboo store where you can find cultural items. I remember entering to the center and the attendants were so friendly and warm to us. One attendant even approached us in Tagalog. She was so nice. Then she gave us a free jade sample which we really liked. We did not have to spend a penny. Going further the center you can find a store filled with souvenir items. There I bought the usual fridge magnet. Hehe.
4.) STROLL THE CITY BY BIKE
Biking is popular in a place like Shenzhen. Tourists can rent out a bicycle through searching them in mobile app. Make sure to create a Wechat account as payment is always done online for most establishments in China. Shenzhen is a clean place and it's fun to bike around the city if you can spare 2 hours for this activity. 

5.) EXPLORE THE FOOD
Traveling is not complete without trying out local Chinese food in Shenzhen such as Dimsum and Seafood Hotpot. You can head to Nanshan District where you can find restaurants  after visiting Window of the World.
After exploring Shenzhen for the whole afternoon, we were already starving. We found a place to eat randomly that does not have an English name. The food was indeed flavorful and the price was reasonable. Thanks to our translator and tour guide who ordered the recommended dishes for us. Coming to Shenzhen for the first time was enjoyable.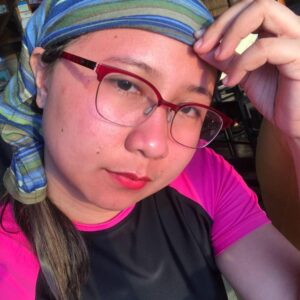 Latest posts by Reah Montederamos
(see all)