TRAVEL EXPENSES AND BASIC GUIDE before going for Hong Kong Trip.
As ordinary employee, my salary usually goes for the rent, insurance, transportation, meal, allowance for toiletries, grocery, for my family, others just like you. I currently work in a big city where expenses are higher compare to the province.
My earnings are not that much so traveling seems like a luxury. But having money constraints won't stop me from exploring and living my life to the fullest. Even if I do not have the financial luxury, I still have the freedom and time TO MAKE IT HAPPEN instead of only working 8AM-5PM desk job 5 days a week.
Hong Kong is always a good start for first timers abroad. It's been popular for Filipino tourists for quite some time. Aside from the fact that it has a lot of Filipino domestic workers, the country offers affordable tour packages for you to experience their modern lifestyle, wonderful culture and of course, Disneyland because its Visa Free for Filipinos.
In this blog, I would like to share how I manage to budget my Hong Kong trip and how it was special. It's special because I saved for it as a gift for my mom's 50th birthday so we can have our passports get stamped together. After all, she has sacrificed a lot and she deserves a treat. Maybe soon in the future we can travel abroad as a family.
A.) Planning stage
Step 1: Secure your Passport (at least valid for more than 6 months at the date of travel)
Step 2: Prepare a budget by researching through the Internet. There's Google! 
Step 3: Book flight early (More than 6 months or as soon as you find a promo)
Step 4: Find an accommodation. Check the Terms and Conditions of the property.
Step 5: Create your itinerary, study the place
Step 6: Before the flight, have your money exchanged to their currency when possible. Upon arrival at destination, airport rates are not the best. Always better to have cash on hand.
Step 7: Pack light, essentials and passport
Step 8: Capture moments, do your selfie!
B) Plane Ticket
In the Philippines there are domestic flights going to the capital in Manila and you also need to consider a budget for that. A connecting flight to Hong Kong from Davao – Manila round-trip cost around 1,800.00 pesos via Cebu Pacific if it is a promo sale. It depends to which province you'd be coming from including the accommodation if needed. But if you are only coming from the capital, you only need to book directly for Hong Kong. July-September is a good time to book your flight because airfares are cheap.
We got Manila – Hong Kong round-trip cost for Php 4,347.17 or USD 87.00 per person inclusive of taxes and admin fees.
ON THE DAY OF THE TRAVEL
Prepare for Travel Tax in NAIA before check-in at the counter which is 1,620 pesos per person.
Once you check-in at the counter, bring your boarding pass and head towards the immigration area for international flights to get your passport stamped.
TIP you need to be at the airport at least 4 hours before your departure time to give ample time for long queues and possible delays or changes. It's better to be early than to be in a hurry and sorry. You have to secure budget for your airport transportation and food expenses as well. There are food stalls and shops within the boarding area.
At the Immigration area we know that Immigration officers are just intimidating, right? Now just confidently smile and present your passport, ticket & boarding pass.  In case you are asked, prepare your company ID or Certificate of employment if you are employed, round trip ticket, hotel voucher & your itinerary in-case the officer wants to see them. Immigration Officers ensure the safety of the citizens and that any illegal activities or exploitation will be prevented.
You need to go through the security check before heading toward your assigned boarding gate number. Another tip is  always be attentive on your flight number. There are instances that boarding gates and flight schedule suddenly changed. You need to be aware of it.
C. Accommodation
During our Hong Kong trip we stayed in Hotel 36 located in Prince Edward, Kowloon for 2 nights. Though  accommodation would depend on your choice and budget, always check out the property in advance as it gets fully booked especially if it's the affordable ones.
These are the price range per night if you stay within the center.
You can look for hotel listing via online Booking.Com, Agoda.Com, Traveloka, or AirBNB and book using your credit or debit card.
Accommodation prices range from 700.00 – 2,000.00 pesos per night. Be careful to read the terms and conditions. Some hotels do not charge much, some have hidden charges such as cleaning fee.
If you book online some of them offer flexible payment options like free cancellation or pay directly at the property upon your stay.
Let's RECAP the cost we incurred for this trip:
Manila-Hong Kong Airfare Roundtrip: P4,347.17 /pax
Travel Tax: P1,620.00/pax
Hotel in Hong Kong: 1,700.00 for 2 pax per night (private room and toilet with shower)
TOTAL: P7,667.17 per person
With this amount you can already start planning for your Hong Kong getaway.
Photo: My mom at Hong Kong International Airport. It's so huge! You'll be surprised that you will have to ride a train within the boarding gates. It has almost 100 boarding gates.
D. During travel
Tip: Always have a small sling bag or accessible travel organizer with you containing the travel docs such as passport, ID, ticket, travel itinerary, boarding pass, hotel voucher because you will have to present these at the Immigration area every now and then. And an organizer which can fit also your cellphone, essentials and wallet.
When you book airfare & hotel early, you still have time to save for your allowance. Bring extra money & credit card in case of unexpected costs or emergencies.
Please notify your bank prior travel date before using your credit card. I did this to avoid any hassle during purchase. For debit card, there are available ATM machines around for easy access.
The allowance for food and shopping will depend on your budget.
In our experience, we hired a travel agency for the tour. See Pros and Cons of hiring an agency in Hong Kong.
For the clothing, you can wear any comfortable clothes depending on the month of travel. If you travel on July, it's definitely hot outside. It's cooler on December but Hong Kong does not get snow. Comfy shoes is a must for there will be a lot walking (if you want to save money and get some exercise at the same time).
Some of our ITINERARY:
We went to Ladies Market and Temple Street Market in Mong Kok
Avenue of the Stars and Victoria Harbour in Tsim Sha Tsui
Flower Market at Prince Edward
Yuen Po Street Bird Garden in Kowloon
Aberdeen Fishing Village
Sight Seeing at Central District
Street foods in Hong Kong
Other attractions are Ocean Park, Disneyland, The Peak, Lantau Island and many more… 
A very important task is to research about the country, its culture and people.
I downloaded useful Apps like Airbnb for accommodations, Klook for discounted tickets and Google Maps and MTR Mobile (To see train stations and its landmark) for navigation.
It's exciting to visit Hong Kong and I hope I'm able to help you through this blog. Share this content and let people know how easy it is to plan your international travel even if it's your first time. If I can do it, you can too! 
Enjoy life by traveling! Do you also want to visit Singapore? Check this out. Click here. https://blogsnippets.com/what-to-do-in-singapore-4-day-itinerary/
Disclaimer: I am not a paid agent or affiliated of any travel agency. Your actual experiences may vary.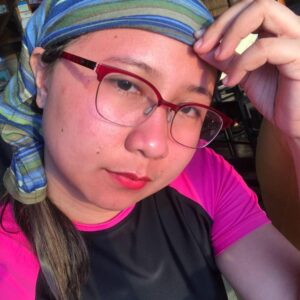 Latest posts by Reah Montederamos
(see all)