Are you planning to book for a trip to Taiwan particularly Taipei soon? This is a complete guide for you from costs, itinerary and tips in getting around Taiwan for the first time. Prepare your passports as we are about to discover an unforgettable travel experience in Taiwan.
Celebrating our friendship for a "decade", my friends and I wanted to do something we would cherish in the future. Without second thoughts, we happily DIY booked on October 2017 for Manila-Taiwan promo fare which costed us total of Php 8, 720.37 via Cebu Pacific. That's surprisingly Php 2, 906.79 ROUND TRIP Ticket per person under VISA-FREE policy. It's going to be a FREE and EASY tour for us.
We still had months to do our brainstorming, review our itinerary and to save up for accommodation and allowance. For the accommodation, we booked our affordable stay with AirBNB where 3 PAX can fit in one room for three nights and made payment to our host for total of Php 5, 922.00. 
ACCOMMODATION:
That's Php 1, 974.00 per person for said three nights.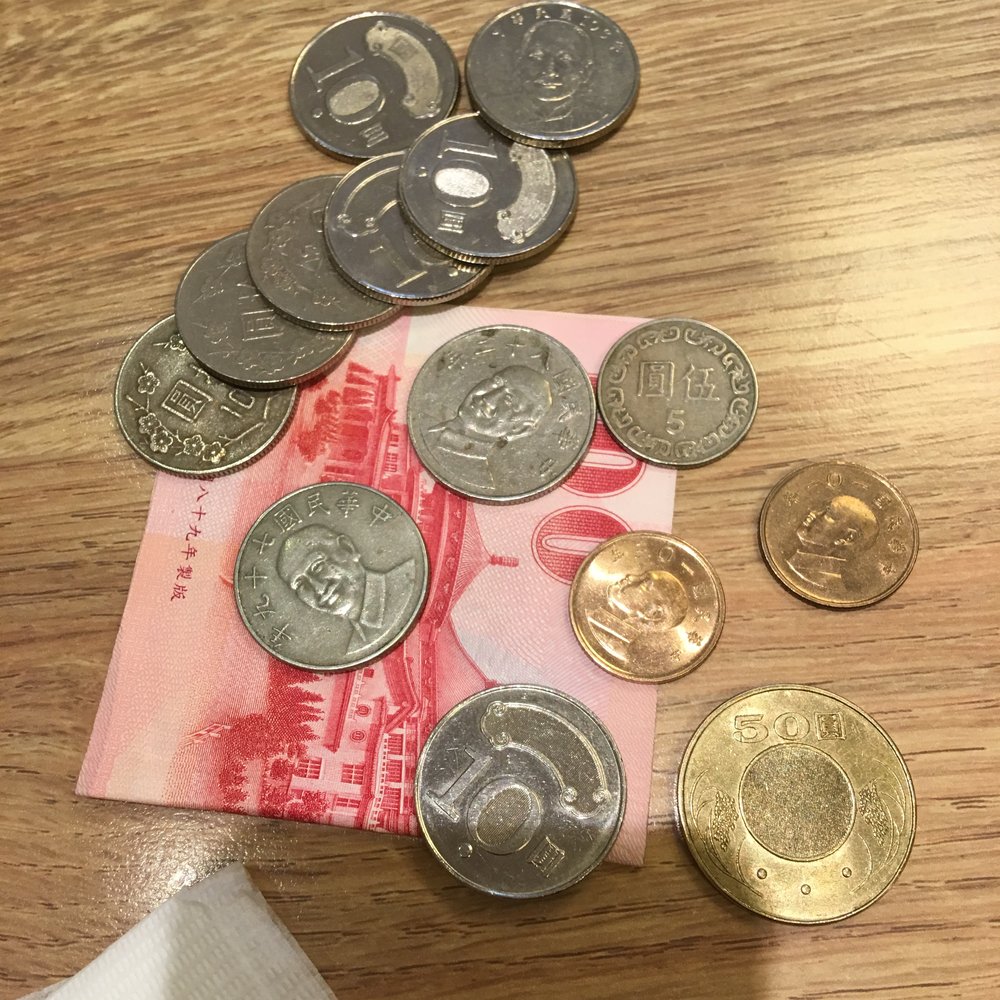 Planning for travel abroad can be fun at the same time you need to be financially prepared. Before booking check first the exchange rate or the currency of that particular country, check if any VISA is required, then if you think you can deal with the budget and the requirements, go ahead and create a wonderful itinerary of your destination. The NTD or New Taiwan Dollar is Php 1.90 = 1 NTD. You can buy NTD using your Philippine PESO around Ermita, Malate area like I did and bring the cash with you prior arrival in Taiwan. It will help you worry less.
This was the first time that I would be traveling with my friends. Making our itinerary would be full of ideas and suggestions compressed in that 4-day vacation. If you are planning to travel Taiwan by yourself, with your friends or with you family, my blog will teach you how to budget your time, without compromising your savings while enjoying the tour in DIY instead of booking under an agency.
Maybe some people are wondering what's in Taiwan? What makes it a travel destination aside from the idea that F4, Meteor Garden series originated in Taipei? All I can say Taiwan is one of my favorite destination. Actually a lot of tourists are discovering the beauty of Taiwan.
Kindly check out our recommended BFF itinerary and costing per PERSON.
ROUND TRIP Airfare: Php 2, 906.79;
Travel Tax: Php 1, 620.00;
Accommodation Air BNB for 3 nights : Php 1, 974.00/Php 658.00 per night
SUBTOTAL: PHP 6, 500.79 or USD 130.00 – YES, IT'S POSSIBLE!
Allowance budget: NT 4, 000.00 or Php 7, 600.00 per person for 4 days
OUR BFF ITINERARY
DAY 1 – TAIPEI 101, SHI LIN NIGHT MARKET
4:30 AM – 6:30 AM = NAIA 3 Check-in, Immigration, Boarding Gate, Breakfast TAPA King Php 160.00. Fare to Airport – Php 150.00 Grab share
8:36 AM = Actual flight departure from 7:25 AM original schedule
11:30 AM – 1:00 PM = Actual Arrival at Taoyuan Airport, picture taking, passed Immigration process, purchased Easy card for MRT  – Cost NT 500.00 with NT 400.00 load & NT 100.00 deposit
2:00 PM- 3:00 PM = Late lunch at Jin Feng  Cost NT 50.00, Milk Tea NT 50.00
5:00 PM = Taipei 101  = Php 900.00 Discounted Voucher on Klook (Regular rate without discount: NT 600.00)
7:00 PM – 10:00 PM= Shi Lin Night Market, Dinner Cost: NT 100.00 Approx.
SUB-TOTAL: PHP 2, 540.00
After the immigration formalities we headed to the Information Desk and bought the EASY Card. Using this card it allows us to ride the MRT or bus in Taiwan. From Taoyuan Airport in Taoyuan City we headed to Taipei Main Station in New Taipei City which costs NT 160.00 per way. From there we transferred to another MRT line where the booked AirBNB room is located near Chiang Kai Shek Memorial. 
Along the way we finally had our late lunch in Jin Feng Braised Pork Rice. They are famous for braised pork with the locals and tourists. Be equipped with your chopstick skills because it's a necessity in Taiwan.  Practice at home before your trip. The host left the key outside the apartment so we could enter when we arrived. We took a little rest, freshened up, unpack our bags, getting ready to go out for our first night in Taipei. We went to Taipei 101 – Tallest building in Taiwan, had our dinner and shopping in Shi Lin Night Market.
DAY 2 – CHIANG KAI SHEK, LONGSHAN TEMPLE, RAOHE NIGHT MARKET
8:00 AM-12:00 NN = Light breakfast Pizza NT 25.00. Chiang Kai Shek Memorial Hall and Museum, Long Shan Temple, FREE entrance fee
12:00 NN – 6:00 PM = Ximending District Shopping malls and afternoon market, Milk Tea NT 40.00 Lunch in Modern Toilet Restaurant NT 250.00 approx., bought Polo Shirt in SPAO for NT 190.00, night dress NT 100.00
7:00 PM -10:00 PM = Food trip Authentic Takoyaki NT 100.00 and buying souvenirs in Raohe Night Market, cost of each magnet NT 50.00 and Taiwan Biscuits 3 flavors/3 packs – NT 100.00 per pack, Total souvenir cost NT 400.00
SUB-TOTAL: PHP 1, 738.50
To save cost, always bring bottle of water with you especially that most of the time you will be walking around the city and there is no need for a taxi. We are glad that our AirBNB host provided us 3 liters of water as complimentary. Chiang Kai Shek Memorial is a main attraction in  Taipei where you can learn about the life of ROC leader. The site has a man-made lake and a mini forest where you can chill while surrounded with squirrels, birds and ducks. We went to Longshan temple where traditional prayers are being offered by Buddhist followers. 
At noon we headed to Ximending district via MRT, ordered the bubble milk tea also known as BOBA (we just can't help having milk tea) and looked for the Modern Toilet Restaurant also known as poo-poo and pee restaurant. We spent our whole afternoon in Ximending District. It's a busy place where you can do your shopping and food tasting. In our second night we visited the Raohe St. Night Market and we loved the display of street food and items within the area. The crowd is overwhelming. One of the best night market for me.
DAY 3 – JIUFEN OLD STREET AND XIMENDING
9:00 AM – 11:30 AM = Bread NT 25.00; Brunch in Din Tai Fung restaurant (the original) NT 180.00 per person (more or less)
12:30 NN – 5:30 PM = Jiufen Old Street (Mountain village), Milk Tea NT 40.00, red bean cake NT 20.00, Tea bag in 3 flavors NT 150.00, Cute notebook for NT 120.00
6:45 PM – 10:00 PM =Night Life in Ximending District and Night Market; Taiwan beer NT 100.00 per bottle, dinner McDonald's NT 50.00, H & M jewelry sale NT 20.00
SUB-TOTAL: PHP 1, 345.50
Most of your time will be spent with picture taking. Your itinerary should not be that much and exhausting in a day. Just make sure to bring your essentials like power bank and USB cord for your smart phone. Your phone must be working throughout the day. We included Din Tai Fung in our itinerary so we can check out where it originated in Taiwan. Awarded with Michelin Star, Din Tai Fung is one of the best restaurants in the world. You must not miss their famous Xiao Long Bao (Soup Dumpling). Since it was a Saturday, we decided to go for an Out-of-town trip to Jiufen through riding the bus. Travel time was estimated one hour.  I must say Jiufen is amazing and I recommend this for Taiwan first timers. This small town is a popular tourist spot. Located in Keelung, you can experience stunning view of the Pacific Ocean, street food, souvenir shopping, and tea houses in  Jiufen. We also enjoyed stamping our notebook for free in  Taipei's MRT stations and in Jiufen. A relaxing, cool-breeze ambiance await you in Jiufen. In the evening we went back to Ximending and have some taste of Taiwan classic beer in this bar called Mudan where a half-Filipino/Taiwanese working there as a waiter approached us. It's a shopping district and very attractive for the young people like us. We stayed late in that area the whole time.
DAY 4  – MAOKING GONDOLA, ELEPHANT MOUNTAIN, NATIONAL TAIWAN UNIVERSITY
We did not wake up early this time. We just packed up our things getting ready for our flight back to Manila at 3:15 AM. But before saying goodbye to Taiwan, we still had our 4th day itinerary to accomplish. Our host is very kind to allow our luggage stay in the room until we get back from tour even if we already checked-out.
11:00 AM -12:30 NN – Brunch in  AP bar and cafe located in Zhongsheng District walking distance in our place; NT 100.00, water in 7/11 – NT 45.00
1:30 PM – 2:30 PM – Riding the Maokong Gondola, NT 120.00 one-way, Easy card reload NT 200.00
2:30 PM – 3:20 PM – Guan Ding Tea House; Tea flavor Ice Cream NT 90.00
4:50 PM-7:00 PM – Elephant Mountain
8:00 PM – 8:30 PM – Dinner in Yoshinoya Japanese restaurant near National Taiwan University; NT 125.00
8:30 PM – 9:00 PM – Tour inside National Taiwan University; FREE
10:00 PM – 3:00 AM – Taipei Main Station taking the high-speed train to Taoyuan airport, Check-in, Immigration formalities, Boarding, bread NT 35.00, bottled power drink NT 40.00
5:30 AM – Arrival in NAIA, Breakfast at Jollibee Php 100.00, GRAB fare to home Php 150.00
SUB-TOTAL: PHP 1, 684.50
On our final itinerary we went to ride the glass cable car called Maokong Gondola. It was my first time to experience it because I did not have the chance to try it in Hong Kong. The journey 4 stations from Taipei Zoo to Maokong where you can see the view of Taipei and tea plantations on below. It was starting to rain in Taiwan that time when we visited the Guan Ding Tea House and Elephant Mountain. It's a hiking trail where you have to climb for the panoramic view of the city especially the Taipei 101. It was exhausting but it was a good exercise. Tourists come to that mountain from morning until the evening. To our last stop, the National Taiwan University where some scenes of the popular Meteor garden series were played, I suggest you do the Elephant mountain and National Taiwan University earlier in the day so that you can capture brighter photos.
Total EXPENSES: PHP 6, 500.79 +  7, 308.50 allowance = PHP 13, 809.29  or USD 276.16
Now I have shared to you the information for Taiwan trip. Hope that you can discuss them with your family and friends. Travelling abroad should not be that difficult for first timers. Taiwan is a country that has a lot to offer and I would love to visit again. Plan out your getaway soon while the VISA is Free.  I am glad I helped you with my blog. Please let me know your thoughts by leaving your comments below and hope you support my humble website by sharing this blog post. Thank you for visiting blogsnippets site.
Latest posts by Reah Montederamos
(see all)